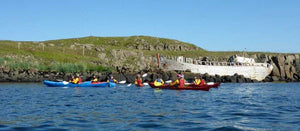 Symposium 2019 Iceland
29th of august to the 5th of September
We will be hosting a symposium in Iceland this year in Stykkishólmur, a beautiful location on the west coast of Iceland. There we have something for everyone, protected areas for beginners and more exciting things for those who want more action such as tidal currents, surf, and good swells.
There is a great selection of indigenous and visiting wild life all over the area within a beautiful, rugged, mountainous landscape and thousands of islands.
We will have quality visiting coaches and guides offering courses alongside local guides and paddlers who will be running some unforgettable half and whole day paddles.
This Symposium will have an outdoors camping style theme, however, it will also be possible to book in to a hotel or a guest house if you prefer. We can supply rental tents if needed and of course we have boats, paddles and a full range of equipment available to hire if needed.
This is a great opportunity to come to Iceland and experience the unique landscape we have to offer and have a great paddle.
All prices will be kept as low as possible. More info to follow soon.
For more info please contact Maggi at info@arcticseakayaks.is
Or Telephone 354-8925240
---